AT WHAT PRICE, QUALITY?
You're here because you either need a full blown production, or you need some editing done to an existing project, or you need a short commercial created.  No matter which of these categories you fall into, there's one common denominator.  Quality and price.
I want to get this out of the way, right now.  Ever heard the saying, 'you get what you pay for'?  Quality requires a higher cost than something that's 'good enough'.  Any quality work requires skills, talent, and the right tools.  They all come with a price and that price is a factor in the cost of the work.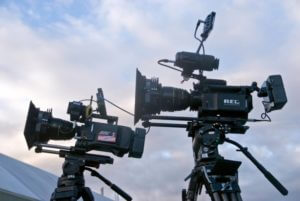 In film, what determines quality?  Well, several things, really.  Lighting, sound, camera, editing, script, shot locations.  And, it takes someone who knows how to put all of these elements together to create a professional product.  A film, no matter if it's a full length feature or a 30 second spot, has to tell a story in a smooth and understandable way.  And, it has to look good.
I'm Excited To Get Started! Let's Talk
  <-- Click here to get started on your project
WHAT WE DO
We take your story or message and turn it into an emotion grabbing production.  Evoking an emotional response from the viewer is the goal.  That's what drives sales, and creates viral phenomena.
To do this, we work with you to formulate the best method and path to get to the desired end result.  We'll make suggestions on all aspects of the project and we'll help you make the best decisions.  You have the vision and we have what's necessary to bring that vision to life.
Take a look at a few projects we've worked on over the past 10 years.  Some of these are low resolution and in 4:3 format because that's what was done, back then.  As you know, technology continues to improve our tools.  Product videos, company promos, commercials, corporate meetings, documentaries, etc.  No project is too small nor too large.  We're also FAA licensed drone operators.
I'm Excited To Get Started! Let's Talk
  <-- Click here to get started on your project
This is a project in which we were recently involved.  We were hired for the cut away shots of the business.

eWranglers_1.24.6 from Moving America Forward on Vimeo.
BUT I ONLY NEED A WAY TO MAKE MY VIDEO REALLY POP!
That's great!  If you already have a video you like but it seems to be missing that certain something, we can help with that.  Most of the time, you'll only need a nice intro and maybe a motion graphic transition here and there.  Take a look at the sample intros we've created, on the right side of this page.  If you need something not so dramatic, take a look at the 'cookie cutter' type intros HERE.